I did an Interview with my mentor Brittany Charington from Saskatoon. She is a second year EAL teacher for K-8.
She was part of a pilot project for bringing more  ipads into schools – specifically for EAL students.
I asked her about technology and I will summarize our Skype conversation and information she gave to me.
At her school she had 5 ipads but her classes are small and consist of 5-8 students at a time. She finds the computers to be slow so she prefers to use the ipads. Students log onto the ipads in the same way they log on to the computers
Brittany finds that she uses the ipads mostly for presentations, kidblog, reading hd, and raz kids.
She loves using imovie. She uses this for learning about pronunciation and to ask and answer questions.
Her favourite apps:
*Creations apps – kidspiration and creating graphic organizers
*tunetastic is a cartoon app where students make stories. This is a huge buy-in for students and they learn about creating stories
*little story maker
*itranslate– is useful in an EAL classroom to help them better understand and communicate
*Math games – math zombies is a game that you get facts before zombies get them
Her research technology team meet about once a month for eight months. The time was used from when there would regularly be a staff meeting. In Saskatoon they do not have very many smart board, there are at least none in the school that Brittany works at.
I ask Brittany if she found that ipads cut down on the use of paper and she sometimes will use paper but thinks it is great that students can email things to their family. Especially to family who might not be in Canada with them.
I also asked Brittany what the biggest struggle about using technology is for her students.  She informed me that she teaches a lot of refugees who have never been exposed to technology. A lot of students are very tech savvy but the refugee students are brand new at the technology world.
Brittany and her technology research group over the eight months created an amazing resource website
Here they have reviews and recommendations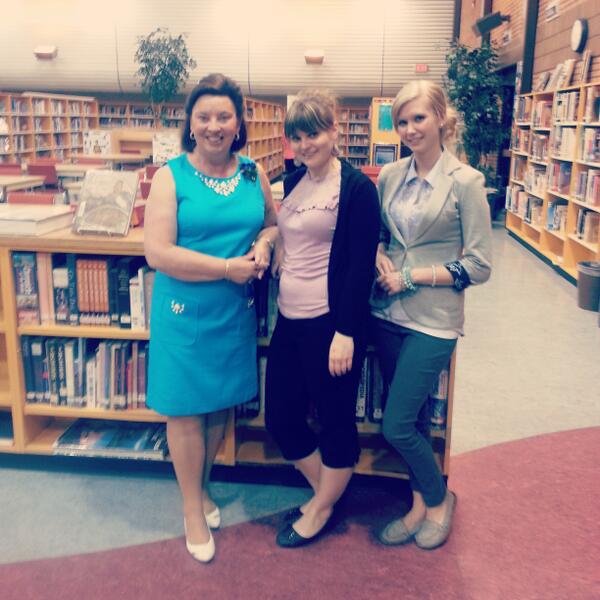 Past, Present, and future teachers. This is Brittany and I at her Mother and Fathers retirement from Saskatoon Public Schools last April.